What is the Arizona Agenda?
We're a daily political insider newsletter for political outsiders, run by two longtime local journalists. 
While our main target is state politics and government, we go anywhere we smell bullshit — from local school boards to the halls of Congress. 
Our goal is simple: Help Arizonans better understand the state's political scene and how the government works so they can make informed decisions and hold their leaders to account. We focus on the effects of political decisions and the people behind them.
The Arizona Agenda fills in the gaps of traditional political reporting. We offer the background context, the gossip and peeks behind the scenes that help you understand the big picture of what's happening in Arizona.
We're equal-opportunity harassers, not partisan warriors. But we don't believe that both sides of an argument always carry equal weight, and we don't pretend to give lies and nonsense (cough, election denialism, cough) an equal hearing in the name of bothsidesism. 
Some of this newsletter includes in-depth pieces cutting through the smoke and mirrors politicians use to confuse you. Some of it is watchdog stories about how the government is failing or screwing its citizens. But mostly, we just provide facts and point fingers — and hopefully inspire more people to get involved.
We run a local independent publication that serves your interests — not clicks, some corporate overlord, wealthy donors or a political party. But to do that, we need your financial support. 
Who's writing this thing?
Rachel Leingang and Hank Stephenson are Arizona journalists whose work has, collectively, appeared in most of the state's largest publications. 
Hank is a politician's greatest fear. He's known for showing up and making a scene, sure, but he's also known for beating his journalistic colleagues to a big story. He can craft a compelling narrative about a key political player as well as he can dive into public records — a rare feat.
Rachel is obsessed with how the government works, and she loves to share that obsession to help people get more involved. Her stories often look back at old policies and see if they had their intended effect. She prioritizes the people directly affected by laws and holds the politicians who create them accountable. 
We both write stories that are thoughtful, probing and full of the consequences of people's actions. We love to find nuggets in public records and file tons of requests to do so. We love a good comeuppance. And we especially love stories that take weird turns.
Here are our formal credentials:
Rachel has covered government, politics and higher education in Arizona since 2015, first at the Arizona Capitol Times, then The Arizona Republic, where she most recently wrote government accountability stories with an eye for those impacted and a focus on problem-solving. She has a master's degree from Arizona State University, which is how she ended up here in 2012.

Hank has written about Arizona for national outlets like The New York Times, Politico Magazine and Columbia Journalism Review. But he's a community reporter at heart. He was most recently editor and meme-maker at Yellow Sheet Report, a political tipsheet and gossip rag. He has covered Arizona politics and government since 2008. 
We've been recognized as among the state's best journalists thanks to our award-winning reporting.
Most recently, we were named Phoenix's best newsletter by the Phoenix New Times' annual Best of Phoenix awards in 2022.
"It's easy to get lost in the bureaucratic weeds of Arizona politics, but Leingang and Stephenson cut through to the key stories of the day, and keep a close eye on the constant antics down at the state house. Local news in the state is better for it," the New Times wrote about us.
What do I get?
Subscribers receive the Daily Agenda, a morning email Monday through Thursday rounding up the day's government and political news along with our own scoops, some gossip or a wild tidbit. The Daily Agenda is well-read by the people who make political decisions and all the people who want to hold those people accountable.
We send our own reported stories on Friday mornings or whenever news strikes. 
Your paid subscription supports investigative local journalism, in-depth features, scoops about big news or politicians, dives into how things work, interviews with newsmakers and more. 
We've made zines about public records and how a bill becomes a law (formally and informally). We give you resources that help you improve your life or work with the government more successfully. We break down complex topics like redistricting or the state budget in emoji-filled cheat sheets. We occasionally turn the newsletter over to people whose ideas and expertise we want to share with you. And we go to bat for you!
We quit our jobs in corporate journalism to take a chance at something completely different with this newsletter. We survive solely on your paid subscriptions. 
The fact is, corporate-owned news outlets are never going to invest your subscription into growing their newsrooms. They're only interested in growing shareholder profits. We have no shareholders, and we aren't interested in getting rich. We'll take your money and pump it directly back into serving you. 
And the going rate for this daily stream of Arizona-centric political reporting is just $120 per year or $12 per month. 
Think of it this way: Would you buy us a beer once a month to hear all the crazy stories we can dig up about Arizona politics and government? Of course you would! That's all we're asking. 
If you want to help us grow, consider becoming a founding member for just $500 per year. You'll get four additional subscriptions to share with friends. 
We also offer steep discounts for larger group subscriptions. Hook up your whole office, client list or civic group. Email us at info@arizonaagenda.com for our rate sheet.
Outside of paying to subscribe, you can also help us do great journalism by sharing information with us. Drop us a tip about petty corruption at your local planning and zoning commission or the White House. We'll do our damndest to run it down. 
If you don't have a tip, send us an introduction, words of encouragement or hate mail. And while you're at it, tell us what service we can provide in order to earn your financial support. We work for you. 
Email us at info@arizonaagenda.com with any questions!
What people are saying about us
They like us. They really like us. (Except for one Twitter rando who made fun of Rachel's eyebrow … safe to say that guy isn't a fan.)
"Arizona Agenda, @hankdeanlight and @rachelleingang's excellent new newsletter, has become my obligatory first read every morning." - Fernanda Santos, contributing columnist Washington Post and former New York Times Phoenix bureau chief
"Circling the drain on #ArizonaAgenda fanboydom. Punchy, irreverent, funny, informative. But don't let the jokes fool you: these two are serious reporters, who also happen to know when things deserve to be taken seriously - or impishly lambasted." - Murphy Woodhouse, reporter KJZZ Hermosillo bureau
"The Arizona Agenda matches my mood perfectly regarding this state's messed-up politics and I am 100% here for it." - Melinda Merkel Iyer, cofounder of Save Our Schools and Civic Engagement Beyond Voting
I subscribe to the Arizona Agenda (
arizonaagenda.com
) and I encourage y'all to do the same -- it's written two experienced political reporters with *deep* connections in the AZ legislature, who use that access to just... tell it like it is. We need a lot more of that.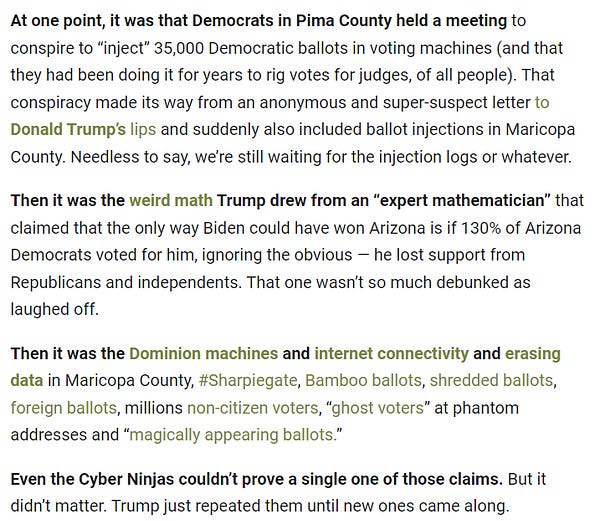 "The journalists at the new Arizona Agenda promised, 'Our newsletter won't be boring,' and boy, they weren't kidding. Really great insights, captured with clarity and passion." - Edward Perez, election expert and global director of technology and open standards at OSET Institute

Subscribe to Arizona Agenda
People
Arizona Agenda 
We're a political insider newsletter for political outsiders. Written by Rachel Leingang and Hank Stephenson